Here we are for another edition of Friday's Letters.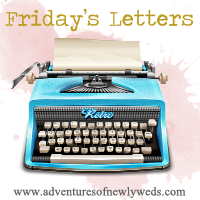 Thank you
Gwen
for introducing me to my favorite post because even if I'm knee-deep and weeks into a project, and don't have anything to show you, I can still post this.
Dear Scalp,
How about you start filling in some of that hair you've been losing, hmmm? No, really. Start now. Don't make me go all Rogaine on you.
Dear Hair,
I know the maternal side of the family goes gray early (like in our 20's), and you've been good for many years of 'just a few here and there' grays, but I feel the need to tell you that the lengths that you have gone to are a little extreme lately. (hair pun - har) Two weeks in between gray roots is not long enough; can we go back to colorings every 4 weeks minimum? It's getting a little expensive to still look like little ole brunette me.
This is just after a cut that's a graduated bob with sideswept bangs - flat ironing doesn't help with the thin look. After I style it myself, it'll be a little bouncier. I should probably think about coloring it soon too.
Dear Gray Paint,
ACK! 6 plus samples and still not the right shade. More being bought today. At this point, you might be out of contention as a color in my house. Every shade looks too blue, too purple, too green, too dark, too light, too brown. Something nefarious happens between the shade in the store to the shade in the can to the shade on my walls. I think I've tried most of the shades recommended as 'the perfect gray', and am giving a few more a try as a last ditch effort. On a positive note, I have tons of samples to
make chalk paint
with and with which to paint lots of projects. (Random grammar - my specialty.)
This pic is pretty true of the colors - all of these are 'gray' in some form or fashion. I'm thinking the one to the right of the three lightest ones is the one to beat. It was color matched to MS Stonington Gray. They all looked lighter in the can! The three on the far left all looked white when first painted on. I taped up the chips next to all of them just to see if the color was true, and it was. After seeing what they look like at night, I may just make a decision...probably.
Dear Self,
Please stop doubting yourself when it comes to your projects. You have style, you have taste, you have an eye for what works; if you continue to second-guess yourself, sh*t just won't get done! You go with your bad self! Ryan Gosling would most certainly agree.
Dear Thighs and Booty,
I was skeptical all this running was making a difference until I put on those jeans. Yes, 'those' jeans. Thanks for showing me it's all worth it!
Dear Scale,
I am no longer listening to you; ask Thighs and Booty why we're breaking up.

Have a wonderful weekend everyone!